A Way Out : An Escape from Single Player
So I started with high hopes for A way out.
I remember I was sitting there on my couch or bed or desk, who knows where I was but I was watching E3 2000 and something and EA was showing us a bunch of sports games and I remember thinking "Man they don't need there own time slot for this" and then on the screen I seen the start of A Way Out.
I mean, I have dreamed of a prison game forever.  Well probably since OZ on HBO or binge watching all of the Locked Up raw episodes over a few weekends I have been dreaming of one. I am not a huge indie game fan so I do not get to hyped about them and usually ignore them. I thought something was different about this game. So I been waiting to play it for a while and finally got my hands on it. So with all this lead up said, here is my review!!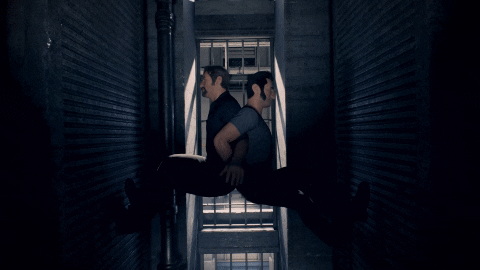 Gameplay:
I think the gameplay is o.k. I mean its nothing revolutionary as far as control or abilities. It has a lot of the same features other games has like press square to punch, press triangle to block, x to jump and it follows the usually Quick Time Event protocol. So I would say if you like normal, and are not looking for something extraordinary in this area then it is solid.
Co-op:
I think this is where the game shines, It is an awesome addition to an already good game. It literally takes two people to make this game work, you need your partners help to move things, get things, dodge things and etc. I also really, really enjoy the split screen so you can see what your partner is doing and the fact that they have their own actions and story elements going on is awesome. This is a standout piece of A way out.
I think while the game has a good story line even if nothing new, and solid game play mechanics that what sets it apart here is definitely the c0-0p. The Co-op is easily the most standout feature of a somewhat not bad but not amazing game. I think that feature alone gives it a good push to going from a good to a great game.